Producer Steven Spielberg has used Amateur Radio or Morse code in three of his last four movies: Super 8 (2011), The Adventures of Tin Tin (2011) and Lincoln (2012). Members of the Morse Telegraph Club (MTC) — an association of retired railroad and commercial telegraphers, historians, radio amateurs and others with an interest in the history and traditions of telegraphy and the telegraph industry — played an integral part in the production of Lincoln.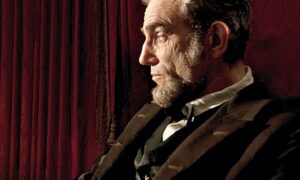 According to International President of the Morse Telegraph Club James Wades, WB8SIW, several MTC members — including Tom Perera, W1TP; Derek Cohn, WB0TUA; Kevin Saville, N7JKD, and Roger Reinke — provided telegraph instruments to equip the 16 operating positions portrayed at the War Department set. Jim Wilson, K4BAV, and his son Matt had roles as extras. Wilson also worked with production staff and the actors to explain telegraph technology and the role of the telegrapher in the 1860s.
"Nine of the 16 telegraph positions depicted in the War Department were fully operational," Wades said. "These instruments could be operated in any combination through the use of a specialized computer program and custom built terminal units for the process. When necessary, a hand key could be inserted in the individual telegraph loops so messages could be improvised."
Wades, who was employed as a Technical Advisor for the production, worked with set designers over a period of months to develop the War Department telegraph scenes, coordinating the process of procuring the necessary instruments and serving as an historical consultant as the telegraph scenes were developed. He also worked the producers to develop historically appropriate message traffic that fit the sequence of the script; however, as the movie was edited, he explained that the final product evolved into a more generic facsimile of Morse traffic. "Those with a background in landline telegraphy will hear the occasional snippet of message traffic in the audio track of the movie," he said.
We are very pleased that Mr Spielberg and his staff took the time to treat the telegraph with dignity and respect. It is a pleasure to be associated with a high quality motion picture that can genuinely be classified as not just entertainment, but as a work of art.
Source: ARRL