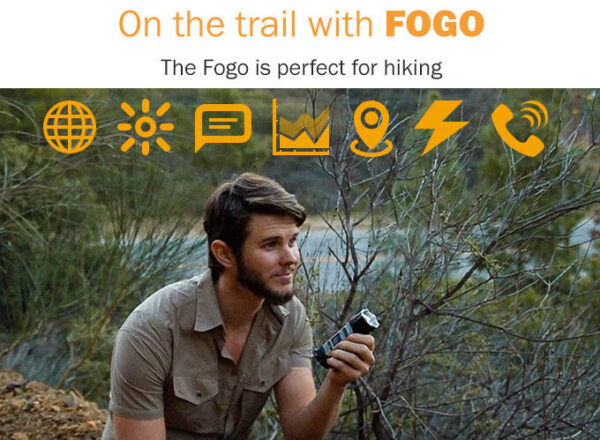 Meet Fogo, the only gadget that includes GPS, bluetooth, digital voice messaging, USB backup battery, and a powerful LED flashlight. Whether you're biking or hiking, fishing or hunting, navigating or camping, the Fogo keeps you safe and lightens your load!
Engadget: "Ordinarily, the term 'smart flashlight' would make me cringe as much as the next person, but having seen the Fogo flashlight first-hand, I'm sold."
Techcrunch: "Fogo has a fun vision to take a standard consumer device, and pack it full of intelligence and capability."
GearJunkie: "The Fogo is unlike anything we've seen. It stood out as an innovation and a great idea with potential to minimize the number of gadgets you need to bring along."
Gearcaster: "The ultimate outdoor gadget you never knew you wanted."
Connected Life TV: "The Fogo flashlight has so many functions that we can't even tell you about all of them in one video."
The Fogo was built to get you off the beaten path and keep you safe while exploring. With GPS tracking and waypoint navigation, the Fogo can be your guide as you blaze a new trail. Load points of interest from your smartphone via Bluetooth or USB and see everything the outdoors has to offer you, while the built in pedometer keeps track of every step you take. When you get there, communicate with other Fogo users via text or voice messaging. Don't worry if the real world comes calling, the Fogo has enough power to recharge your phone and still light the way home with its 1000 lumen flashlight.
Uphill, downhill, or cross country, the Fogo was made to ride. With the Fogo you can track your speed, distance and elevation, as well as integrate data from bluetooth heart rate monitors or cadence sensors to have a complete overview of your ride. With automatic crash detection and automated location sharing, the Fogo helps to keep you safe on your journey. You can even ride into the night using the Fogo's automatic light control, which will adjust the brightness based on daylight, speed and battery charge.
Whether you're at the campsite or on the hunt, the Fogo is there for you. You can keep track of your friends, mark points of interest, and communicate via walkie-talkie. Stopping for the night? Fogo's move-to-turn-on feature makes it easy to find when rummaging through a dark tent.
When you're on an adventure, space and weight are precious. That's why the Fogo was designed to be as feature complete as possible, so you can save room in your bag and stay safe on the trail.
Fogo Feature Summary:
GPS Receiver
Flashlight
USB Backup Battery
App Based OS
Bluetooth LE (aka Bluetooth Smart)
Motion Tracker/Pedometer (Accelerometer)
Backlit LCD Screen
Ambient Light Sensor
Digital Compass (Magnetometer)
Bicycle Computer (Speed, Elevation, Odometer, Bluetooth Sensors)
Rechargeable, Field-Replaceable Batteries
SmartCap Interface (USB/UART/5V Power)
Clock/Calendar/Alarm
128MB built-in Flash storage
Digital Walkie Talkie SmartCap Feature Summary:
Send/Receive Text Messages
Real-time Voice Communications
Digital Voice Messaging
Built-in Microphone and Speaker
SmartCap Interface:
The Fogo USB connector functions as an expansion port, allowing you to add hardware to the Fogo. We are launching the Fogo with the Digital Walkie-Talkie SmartCap which allows you to communicate with other Fogo users via voice or text. The Digital Walkie-Talkie SmartCap will also be available for pre-order after Kickstarter for those that don't choose it with their initial order. In addition, we will have a Satellite modem SmartCap available next year and are also working on an Avalanche Beacon SmartCap and a Laser Range Finder SmartCap.
Bonus Features
In addition to the convenience of having it all in one device, combining a GPS receiver, flashlight and walkie-talkie allows you to do things you couldn't do before. Here are some examples of a few of the applications.
Crash Detection: If the Fogo detects forces consistent with a crash or fall, it will bring up an alert on the screen and ask you if you need help. If you do not respond to the alert before a timer expires, Fogo will send a radio message alerting your friends of your plight.
Blink When Bumped: The Fogo can be set to blink when bumped, making it easy to find in a dark tent.
Adaptive Lighting: Fogo uses its sensors to intelligently adjust the flashlight brightness. For instance, the Fogo will automatically set the light to low beam when pointed at the ground in front of you and high beam when pointed at distance objects. In addition, the Fogo can automatically adjust the brightness based on ambient lighting conditions or speed – low beam for low speed/good ambient light or high beam for high speed/poor ambient light.
Blink to Get Back on Track: When hiking to your destination or next waypoint, the Fogo will blink the light if you stray from your intended path.
Advanced Power Management: Fogo has a fuel gauge that will tell you how much battery life you have left. You can also set an estimated trip duration and the Fogo will adjust the light brightness, and it's electronics settings to make sure you have just the right amount of battery power to finish your journey.
Emergency Beacon: Fogo can be set as an autonomous emergency beacon, flashing the light periodically to flag down help. The software will automatically adjust the brightness and frequency based on lighting conditions and battery power to maximize the battery life.
Text Over Fogo: The Fogo can be used to send and receive text messages from your cell phone when you are out of range. This feature requires the walkie-talkie SmartCap and will require a software upgrade and smartphone app, both available next year.
More to come: Since we are releasing an SDK so that anyone can create apps, this is just the beginning of many, many awesome features that will come to the Fogo.