Wireless weatherstation with colour display, Wifi and internet connection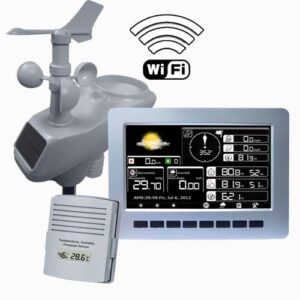 The professional weatherstation HP-2001 offers most what a weather monitor can ask for! The outdoor unit offers sensors for windspeed and direction, outdoor temperature, humidity, light radiation and precipitation. A further remote indoor sensor measures indoor temperature, humidity and barometric pressure. The outdoor unit is supplied by three rechargeable ZnMn batteries, which are included in shipment. The solar sensor panel charges the batteries, resulting in a maintenance free power supply
The oitdoor unit must be assembled before use, the required tools are included. Data is transmitted on 868MHz to the display unit, the distance can be up to 100m. Data is transmitted every 16 seconds, fast enough to capture short duration events like wind gusts. For proper measurement of daylight radiation the outdoor unit must be aligned in North/South direction prior to operation.
A large colour display unit (LCD) shows the measured data and serves for the configuration of the HP-2001 weather station. The panel is controlled by 8 push buttons on the lower edge of the screen. The LCD screen is backlit, making reading of the data easy even under low lighting conditions. During normal display most measured weather data is presented: Windspeed and direction, Indoor and outdoor temperature as well as humidity, barometric pressure, precipitation, solar radiation, but also date and time, sunrise and sunset times, moon phase and much more.
Another operation mode of the display shows historic peak values. Here many measurement values like windspeed, indoor/outdoor temperature, pressure, humidity etc are presented in an easy to read, tabular form. Access to older data is available by oaging through the memory. The internal memory is sufficient to store one to two years worth of data. An external memory card (not included) can be used as a backup medium, useful for transferring the measured data to a computer. All values are stored in a simple CSV text format which can be imported into spreadsheet applications for long term archives. The 'History' mode also offers a graphical view of long term memory data, very useful to see developing trends in weather data.
To offer a very high precision, most HP-2001 sensors can be calibrated by means of another instrument. A special setup page allows to enter reference data for various sensors, including the type of calibration instrument used. Other setup data includes the geographical position, required for calculation of sunrise and sunset and use of the data via the Internet. Date and time is adjusted automatically by using standard NTP time servers.
A very special feature of the HP-2001 weather station is the possibility to transmit the measured data to the internet. The weather measurements are sent to a server of the "weather underground" organisation. This is a US based company which collects real time data of about 40'000 users worldwide and uses this data to generate independant forecasts. Become a part of a huge volunteer organisation which helps to gather enviromental data and provide precise forecasts ad warnings. The connection to the internet is done by Wifi, a Wifi-capable router is required at home. You need to register once on the website www.wunderground.com, after configuration the HP-2001 sends the data automatically to wunderground.com.
HP-2001 – Included in shipment:
Display Unit HP-2001
Outdoor sensor unit
Windvane
Mounting Hardware for outdoor unit
Indoor sensor unit
3 pcs ZnMn rechargeable batteries (for outdoor unit)
Power supply 5V for display unit
Operation Manual (English)
Specifications
Indoor temperature: -10°C to 60°C
Outdoor temperature: -30°C bis 65°C
Temperature precision: ±1.0°C
Outdoor Humidity: 1% to 99% RH
Humidity precision outdoor: ±5 %
Indoor Humidity: 1% to 99% RH
Precipitation amount: 0-9999 mm
Windspeed: 0-180 km/h
Barometric Pressure: 300-1100 hPa
Illumination intensity: 0 – 400 kLux, ± 15%
Measurement interval Outdoor Unit: 16 Sek.
Measurement Internval Indoor Unit: 64 Sek.
Power supply Display: 5V DC, power supply included
Power supply Outdoor Unit: 3x rechargeable AA batteries, included
Power supply Indoor Unit: 2x AAA batteries, not included
Price: 344.00 €